December 4 - Member Update
---
---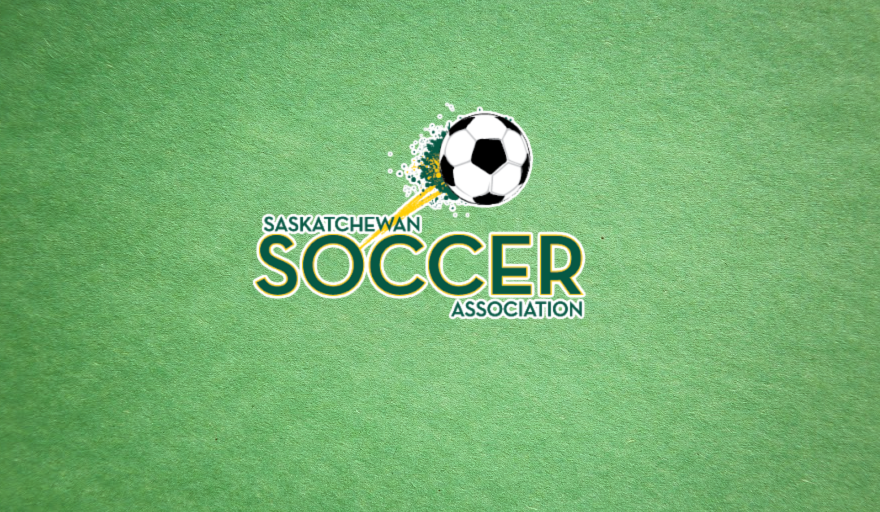 ---
December 4, 2020
To: SSA Member Organizations
BE SAFE! BE THE SOLUTION!
This week we received further clarification on the following restrictions implemented on November 27th.
Regarding Training Spaces:
A training space must have enough space for all participants plus coaches to socially distance by 3 metres at all times
In indoor facilities where a field is divided into sub fields (ex. quarter fields), each sub field is considered a separate training surface only if separated by a physical barrier (ex. curtains).
The above is for reference only. As each facility is unique, each Member Organizations must also consult with their facility operator regarding facility capacity restraints and facility specific guidelines.
UPDATE:
Surfaces need to be separated by a physical barrier that you can not go through. Tape, pylons, etc. do not suffice.
Sask Health has recommended physical barriers such as poly or plexiglass.
The above is for reference only. As each facility is unique, each Member Organization must also consult with their facility operator BRT confirmed that the floor to ceiling curtains found in most soccer centres are acceptable barriers.
If you have specific questions related to your facility or the barriers in place, we recommend you contact your facility operator and the
Business Response Team
.
Regarding whether Groups of 8 must remain consistent:
UPDATE:
Everyone is being asked to limit the number of contacts they have, and therefore, it is recommended to keep groups the same, but not required as social distancing must be maintained and masks are required at all times
These changes have been made to the
Return to Soccer Plan
.
Thank you to all those that answered the poll in last week's communication. These results are intended to give a brief glance on how other Member Organizations are reacting to the recent restrictions to programming. 16 Organizations responded.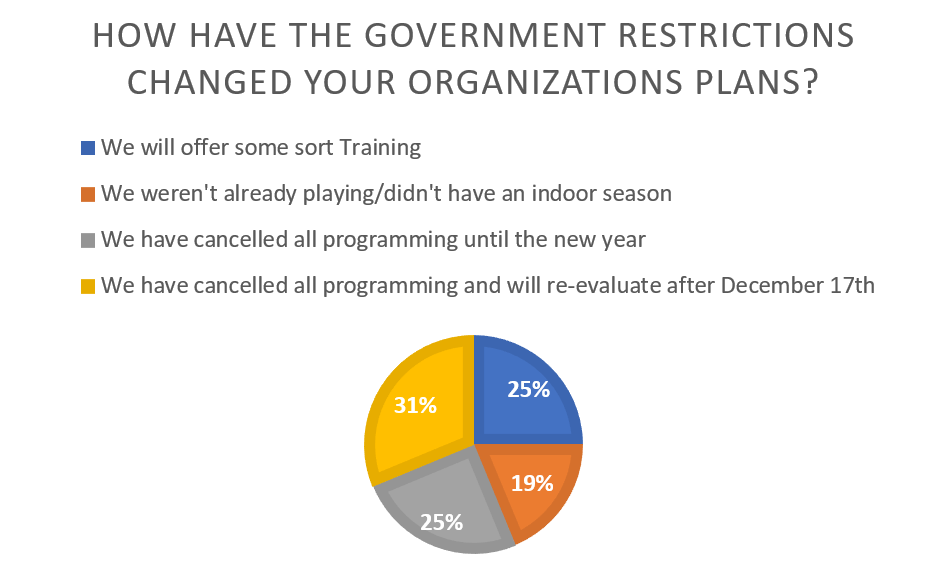 Member Discussions
Club Licensing
For those organizations that have submitted Club Licensing Applications, this is a reminder to update any completed action items by Wednesday, Dec 9th. This includes adding any comments directly on the Application Review Excel Doc. under the 'Organization Comments' column on the 'Review Checklist' tab and saving any new or revised documents in your shared OneDrive folder.
As always, should you have any questions or concerns please feel free to contact either
Markus Reinkens
(Technical Support) or
Nicole Drozda
(Administration, Financial or Governance Support).
---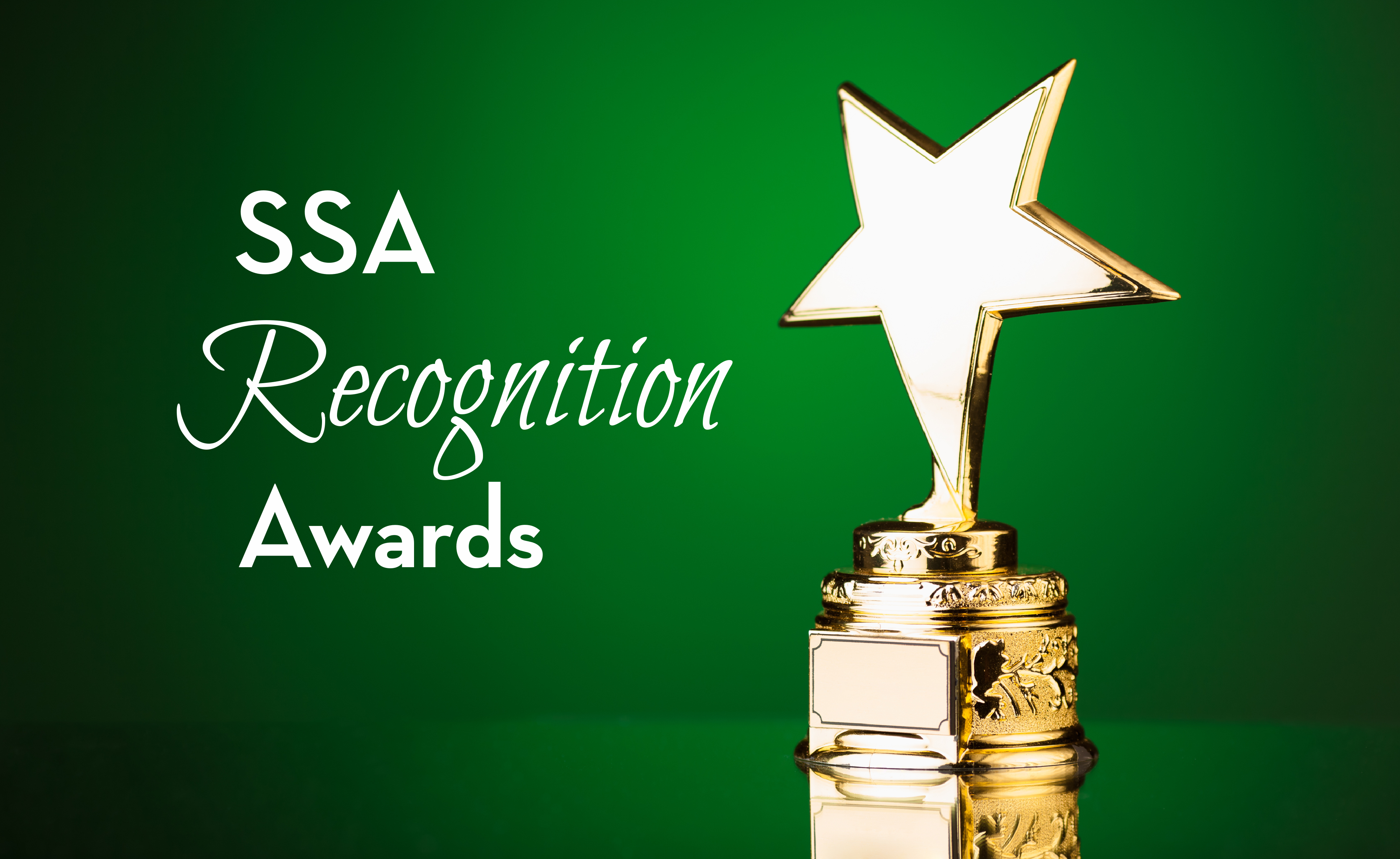 Reminder!! There are only 2 weeks left to submit SSA Recognition Award Nominations! Despite there being a lack of competition this summer, we still feel it is important to celebrate the accomplishments of our members. We know many of you competed in our Indoor Provincials way back in February and early March, and we also know many have had to go above and beyond to bring our sport back during the pandemic, and we want to celebrate those accomplishments.
SSA extends an invitation to you to nominate players, teams, coaches, referees, volunteers, and organizations that exemplify the Values, Vision, and Mission of the SSA. Award nominees and winners will be celebrated during the Recognition Celebration, March 20, 2021.
Indoor Registration Deadline - December 15
The second 2020-21 Indoor registration deadline is December 15. The deadline includes any *active registrations for players, coaches and officials received after November 1 up to and including December 7. If registrations were received by the organization but participation did not occur the registrations can be submitted within the third registration deadline, once they become active.
It is important that you submit the completed Registrar Report and fees no later than December 15. The indoor registration fees and Registrar Reports are available on the
SSA website
. If you have any questions, contact Eden at
registrar@sasksoccer.com
.
*Active registration qualifies as any player/coach/official who have participated in a sanctioned event (game, practice) since registering.
RAMP - PayStone Mass Refunds
RAMP and PayStone once again have combined efforts to offer no additional fee mass refunds. To complete the mass refund process please follow the steps below by December 9, 2020.
Include: Association name, Global Payments merchant ID # (which should end in 5704)
Please note: This information must be received by the 10th of every month to meet the cut-off date to have the fees removed. If information is received after the 10th of the month the removal of the fees will not happen until the following month.
---
SSA Calendar of Events & Deadlines
Recordings of past webinars and COVID 19 member calls can be found on our
YouTube Channel
.
BE SAFE! BE THE SOLUTION!
As a reminder, please continue to take care of yourself, your families, and others.