November Member Sessions
As released last week, this year's Fall Member Sessions will be held online.
These sessions will all be organizational development opportunities and will be held over the month of November, with sessions both during the day and evening. A full schedule will be released soon. The first opportunity scheduled is:
November 1 & 8 - How to Manager Your Technical Direction.
Register through your Member Organization registration portal.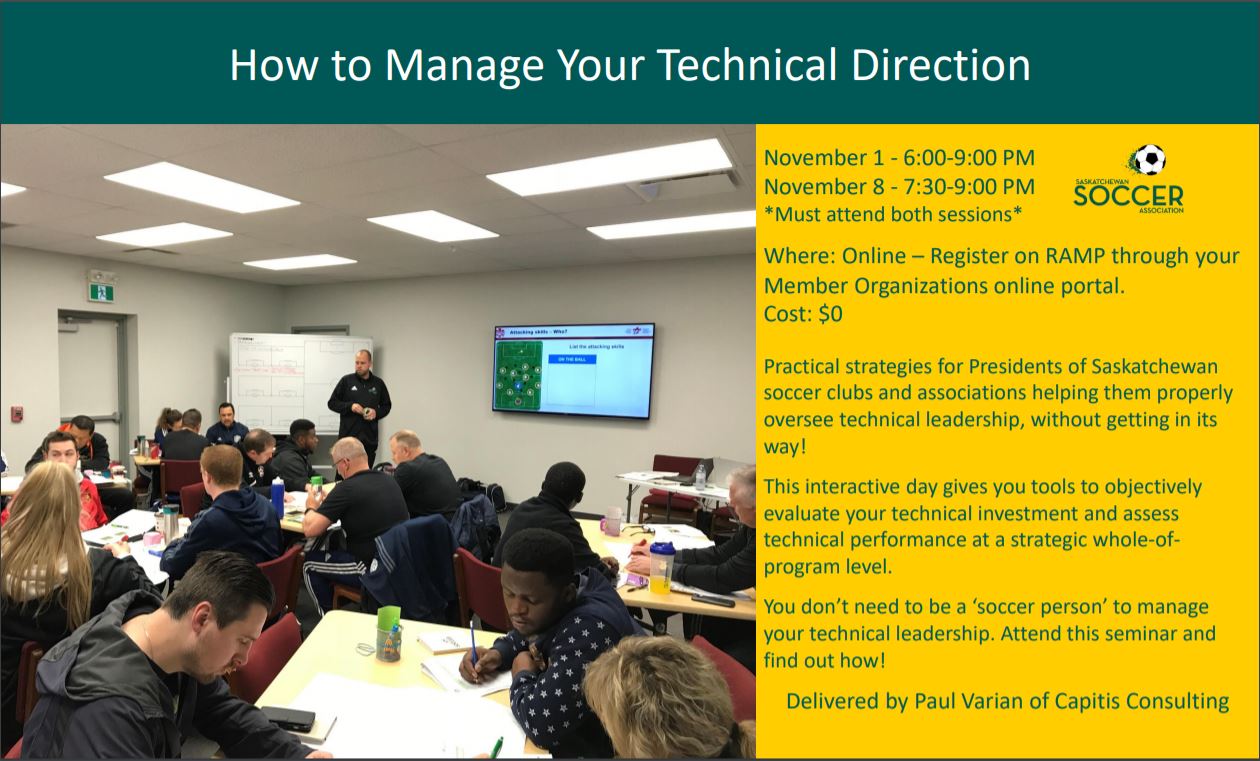 Staffing Update
Today will be Leanne Schellenberg's last day with SSA. We congratulate Leanne as she moves onto the role of Saskatchewan Winter Games Manager. We will miss having Leanne as part of the team but wish her the best of luck and look forward to working with her in a different capacity as we prepare for Futsal to be introduced into the games in 2022.
On an interim basis her duties have been distributed to various staff; updated staff roles are available on
our website
.
Insurance Update
In spring, after meeting and confirmation from Knight Archer, SSA advised membership that there was a COVID exemption on our liability policy. Over the months that followed we pursued a written and more detailed outline of what that entailed.
We have now received the following communication from Knight Archer to clarify our coverage.
We are grateful to Knight for this clarification and apology. We also extend our apology for any impact this may have had on Members.
As we investigated our options for 2021 and beyond, we have learned that that pandemic coverage may be available in the market, but costs and the extent of coverage is currently unknown. In addition, we know that COVID related cases have not yet been tested in the courts, so there is much to learn about insurance coverage during a pandemic. To ensure that we have the best price, service and coverage possible for our membership, we will be initiating a Request for Proposals (RFP) for Insurance services. We will report on progress when the RFP is complete.
Member Benefits Document
We are proud to present our new
Member Benefits Document.
Inside you will find all of the benefits that you are entitled to as a Member of the Saskatchewan Soccer Association. SSA and all Member Organizations provide high quality and safe sport to all participants, this is something to celebrate! Please share this with your participants, as well as non-member organizations near your community.
As a member of the SSA you have access to the benefits of our RAMP partnership. See details below on their new app, an additional feature you can purchase.
Another benefit is access to our three professional development Grants. The deadline for applications is coming up!
Coaching, Referee and Female Development Grants
RAMP App - New Features Released
RAMP releases updated App with new COVID-19 features and sign off that will streamline directly to your website.
Formore information contact:
As a reminder, please continue to take care of yourself, your families, and others.