October 5 - Member Update
---
---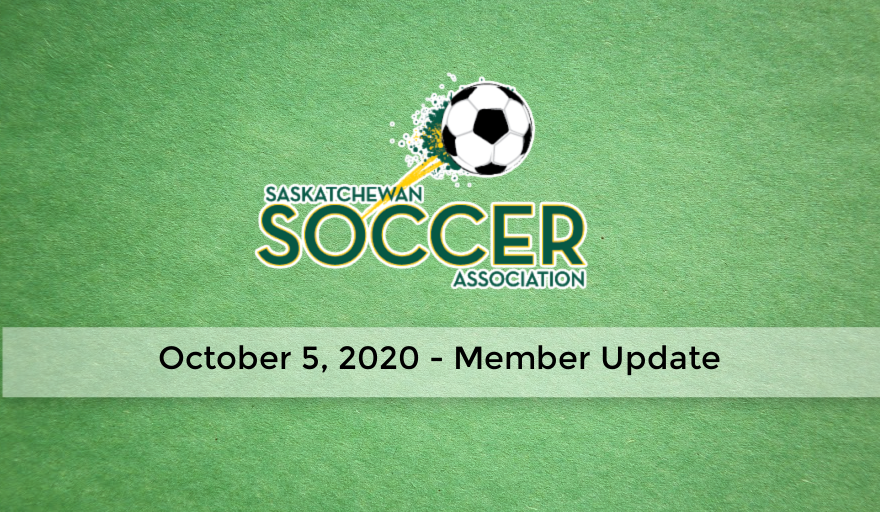 ---
October 5, 2020
To: All SSA Member Organizations
There are no updates to the Return to Soccer Plan this week.
A Message from the Chair of Nominations, Kelly Rawlings
Greetings!
I am writing on behalf of the Board of Directors of Saskatchewan Soccer Association (SSA) to request that the information below concerning nominations to the SSA Board be circulated widely within your organization. The Nominations Committee invites nominations for 6 available positions in 2021.
Once received all amendments will be circulated to voting members for their consideration. SSA will then host an online meeting to ensure that we have open and transparent discussions about all potential amendments. Members will be encouraged to register any amendments to the proposed bylaws at that time. This ensures that all members can participate in open debate prior to the final deadline for Bylaw Amendments which is Dec. 15, 2020. The goal is to work collaboratively to come to consensus during this consultation process and prior to the Annual General Meeting. In order to meet the requirements of the Non-Profit Act 1995, at minimum, any major amendments must be received by the Dec. 15, 2020 deadline to be considered at the AGM.
We do not have specific dates for the consult at this time as we are still waiting for details on bylaw amendments from Canada Soccer which may impact SSA. However, the date for the Canada Soccer Annual Meeting is not yet set. Once we know more, we will provide additional details.
It's that time of year again! Despite there being a lack of competition this summer, we still feel it is important to celebrate the accomplishments of our members. We know many of you competed in our Indoor Provincials way back in February and early March, we know many have had to go above and beyond to bring our sport back during the pandemic, so we want to celebrate those accomplishments.
SSA extends an invitation to you to nominate players, teams, coaches, referees, volunteers, and organizations that exemplify the Values, Vision, and Mission of the SSA. Award nominees and winners will be celebrated during the Recognition Celebration, March 20, 2021.
Based out of Saskatoon, ASTRA Soccer Academy has been an SSA Associate Member since 2012. In January 2020 they applied for a change in their conditions of membership to become a Regular Member. After lengthy consideration of the application and member feedback, and guided by the criteria for membership, the SSA Board unanimously approved ASTRA for Regular Membership status. All membership approvals are for a one-year probationary period.
The Board of Directors are pleased to report, that due to concerns of Membership and the impact of the pandemic, Outdoor and Indoor fee increases planned for 2020 & 2021 have been rescinded:
Please review the various amendments in detail to ensure you remain current.
This year's November Member Sessions are moving online! We will be hosting a package of Organization Developmental Opportunities in November and are asking for your assistance to optimize attendance.
As a reminder, please continue to take care of yourself, your families, and others.
| | |
| --- | --- |
| | Our sport is underway during the pandemic. It's a challenging time, but support from our partners allows us to offer opportunities for kids to play. We acknowledge the financial support of the Government of Canada. Nous reconnaissons l'appui financier du gouvernement du Canada. |