January 27 - Member Update
---
---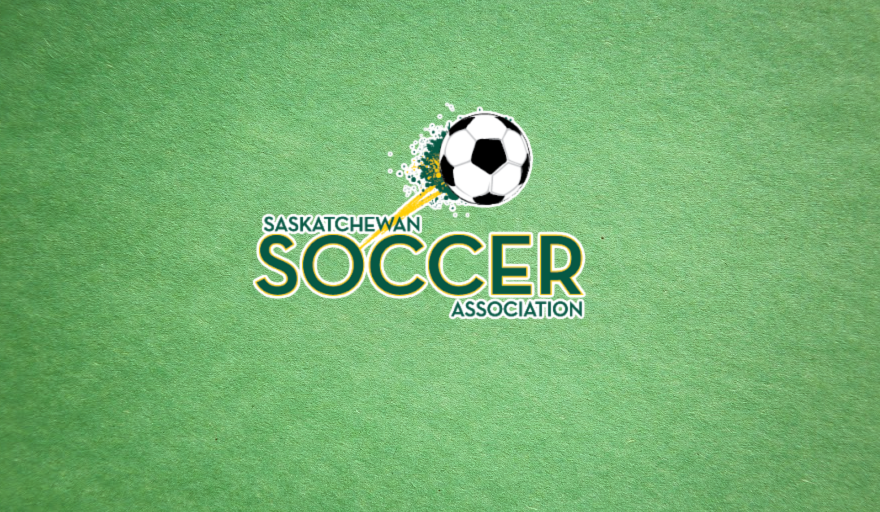 ---
COVID Update
As of Friday January 28, new
Public Health Orders
(PHO) are being implemented in Saskatchewan. This PHO will have no impact on SSA policy at this time. SSA continues to implement its own
COVID policies
which will remain in effect until further notice.
According to the new PHO's, close contacts of positive COVID-19 cases will no longer be required to self-isolate, regardless of vaccination status. However, we encourage our Member Organizations and team organizers to stay vigilant in helping to manage COVID cases within their teams.
Now that only those positive with COVID need to self isolate, this should prove helpful in successfully operating tournaments and league play with less disruptions. However, anyone who becomes symptomatic must immediately self isolate.
Close contacts, although no longer required to self-isolate, must self monitor and make use of the rapid-antigen tests that are readily available. It's recommended that close contacts should self-monitor for at least 10 days for symptoms, test immediately, and again test on days three and five. Those who test positive must self isolate and should continue testing until symptom free.
We all must play a role to reduce the risk of COVID-19. Take all available precautions, wear a mask when outside your household, limit your contacts especially with people at high-risk for severe disease and vulnerable health.
We continue to encourage all participants to get vaccinated, get their booster shot and use rapid tests, to self-monitor, along with other COVID prevention measures.
Outdoor 2022 Membership Renewal and Registration
Membership Renewal
2022 Regular and Associate Membership renewal forms will be available in early February.
Membership renewal and fee is due March 15.
REMINDER: Strategic Plan emphasizes reward-based member recognition and Members will be rewarded through the MAP Grant Population-Based Funding for (jointly) renewing their membership on time.
Outdoor Registration
RAMP registration for the Outdoor 2022 season is now active.
New to Outdoor 2022 the Declaration of Compliance Waiver has been amended to adhere to government public health orders.
RAMP Season Set Up Tutorial:
RAMP Registration System Admin Tutorial
REMINDER: The Outdoor 2022 season will not be active until the Member Organization activates it; this can be done in the season settings.
Referee Registration
Referee registrations will be collected and reported by their respective member organizations. This will be done through your RAMP Official registration and submitted to SSA by using the Registrar Report
To turn on referee registration make sure to "Enable Official Registration" in your season settings.
REMINDER: Referee registrations and fees will be submitted through the Referee Registrar Report by the annual registration deadlines, referees are not considered registered if this is not completed. The first report will be due March 31 for referees who registered January 1 up to March 31.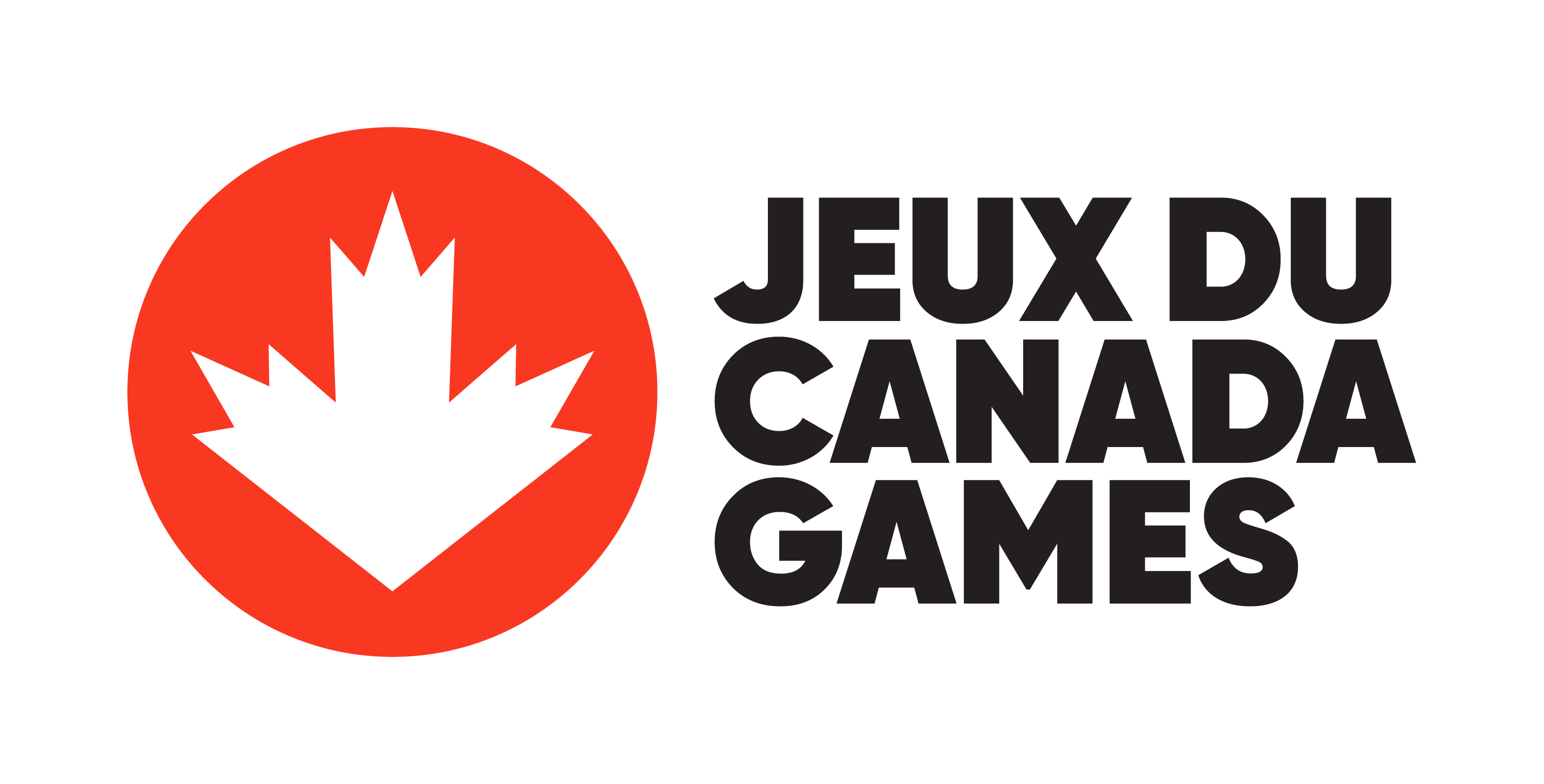 Canada Summer Games, Saskatchewan soccer teams Identification Registration
SSA is happy to announce the opening of registration for the Identification Events for the Saskatchewan soccer teams at the Canada Summer Games. Registration remains open until March 1, 2022, at 11:59 p.m.
Before registering, please make sure you are familiar with the Saskatchewan Soccer, Canada Games Information Package, which can be found
H
E
R
E
. This document will include all the relevant information for athletes who would like to register for the ID Events.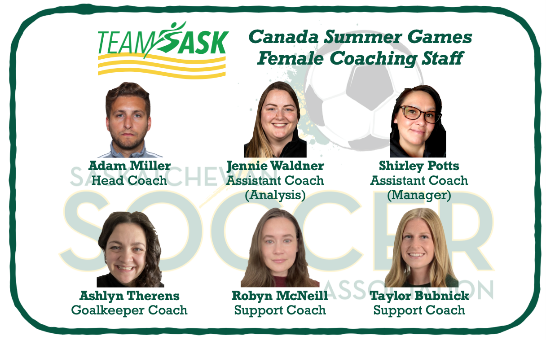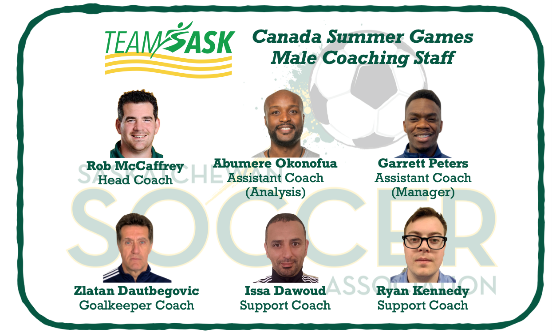 ---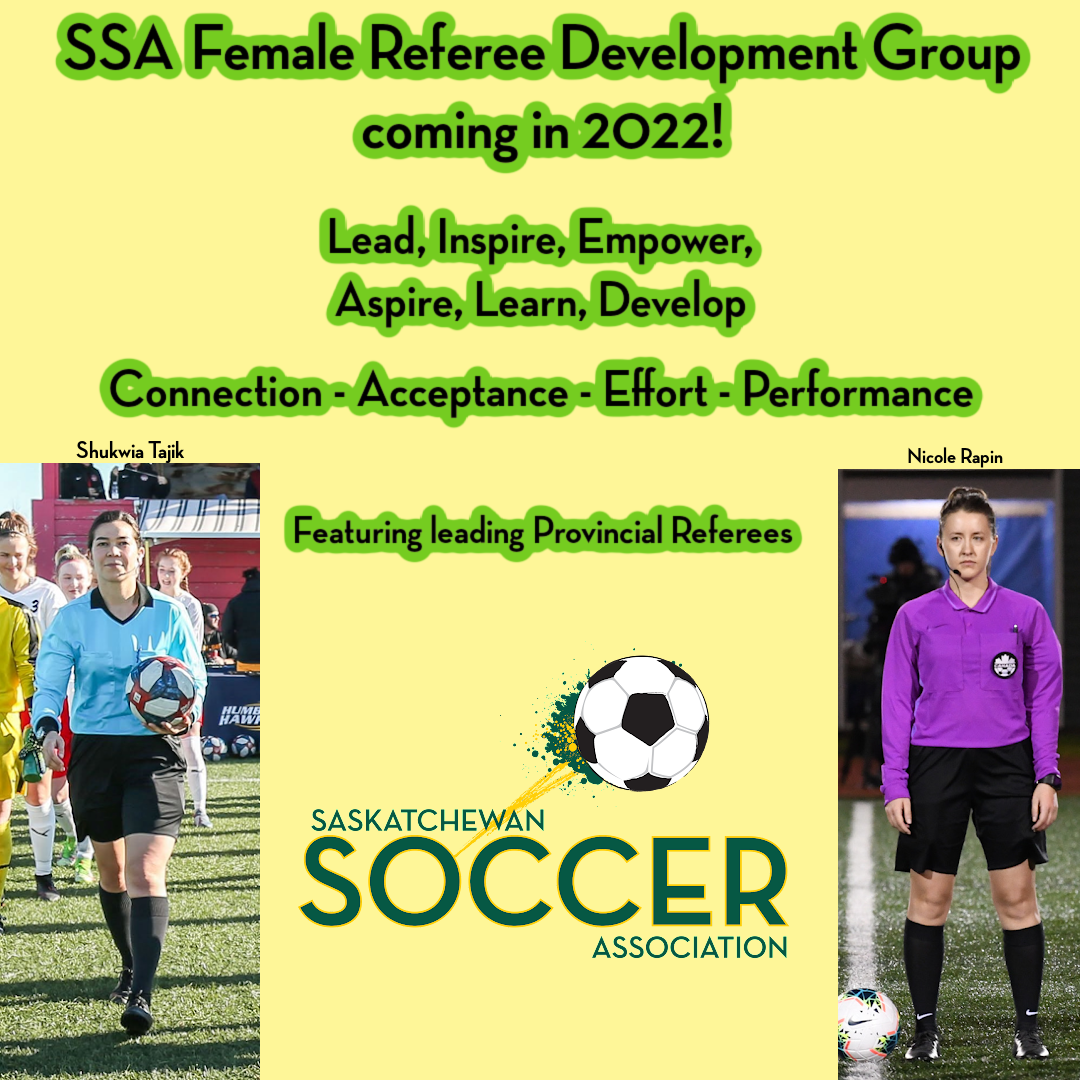 SSA Female Referee Development Group Launching in 2022
Sask Soccer is offering the opportunity to join the Female Referee Development Group. Led by Provincial Referees Shukwia Tajik and Nicole Rapin, the group will be open to all Sask Soccer registered female referees and will be delivered through online education sessions.
The dates and times for the sessions are:
Wednesday, Feb 16, 7:30 PM
Tuesday, March 22, 7:30 PM
Tuesday, April 5, 7:30 PM
Thursday, April 21, 7:30 PM
Participants must register on
Zoom
.
Referees are essential to the participant experience and advancement of the game. They deserve our respect and a supportive, abuse-free, environment. You can make a difference; always treat them well and thank them for their contributions every game!
SK Official included in the 2022 CSA NextGen Referee list
It is with great pride that we announce that Theo Diederichsen, SK Elite Referee Program participant, has been included in the 2022 CSA NextGen Referee Program. Fitness is important for all Referees and Theo must still pass a Fitness Test at the CSA National Camp on March 25-28 in Toronto. The NextGen program represents a first step towards the CSA National Referee List. Members of the NextGEN list are eligible for appointment to professional Canadian competitions including the Canadian Premier League and the Canadian Championship.
Upon hearing the news, Theo stated "This accomplishment validates my efforts and motivates me to continue working hard. It means a step towards my goals, and also an opportunity to recognize all the support on the way here."
We are very proud of this achievement and will continue to support Theo in his journey!

Regina's Chantal Boudreau named to FIFA Referees list
Canada Soccer recently announced
here
that 17 of its National List of Referees have been named to the FIFA List for 2022 international appointments. Regina Saskatchewan's Chantal Boudreau has once again made the FIFA list, which she has been on since 2015 as an Assistant Referee. Congratulations Chantal!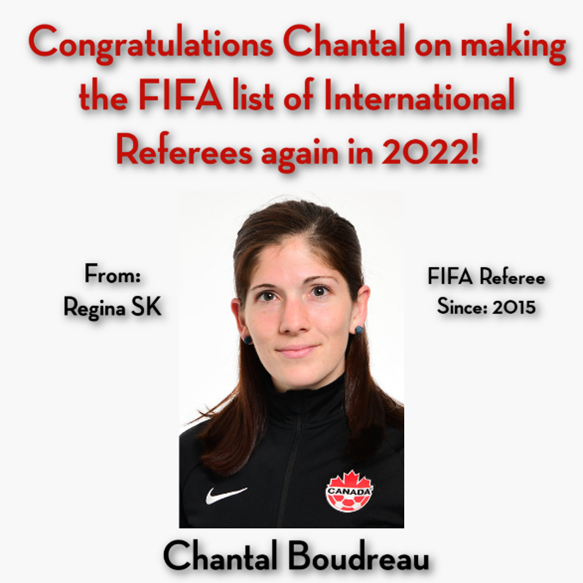 ---
SSA Staff Updates
Hiring: Technical Operations & Coach
SSA is looking for an energetic and determined person to join our team. The ideal candidate will have a passion for the game, a strong desire to learn and a commitment to high standards. The TOC will also be an active coach and support on-field programs such as the female SK Regional Excel Centre (REX) and provide operational support to SSA programs and competitions.
Aligning to our Strategic Plan priority to advance female coaches at high-performance levels and confirming our commitment to equity, we welcome female applicants for this role. This position will remain open while we invite applications from a strong group of candidates; interviews may be delayed as a result.
We would appreciate your continued assistance to share this posting with aspiring coaches, particularly female candidates, who would like a chance to advance as a coach and technical staff contributor.
For more information, please check out the job posting
here
.
---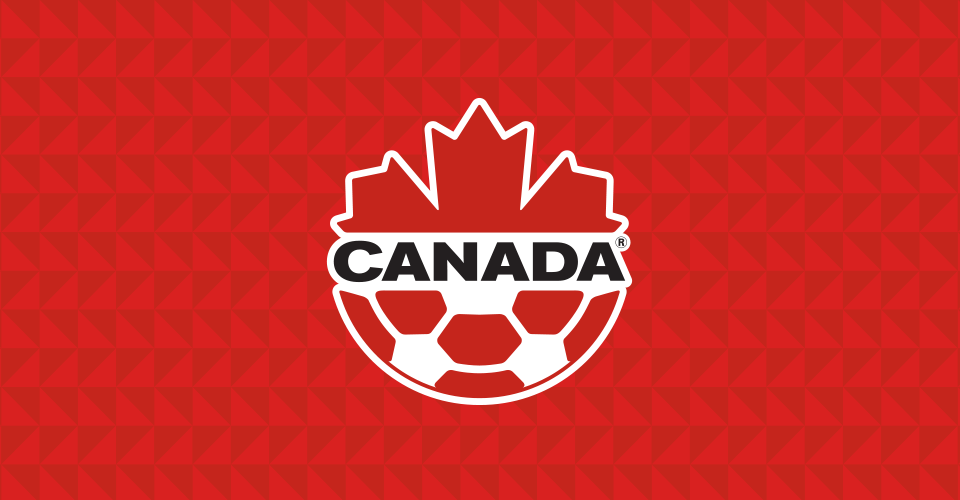 Canadian Men's National Team World Cup Qualifying
The international play window is open again this week, and Canada has some crucial World Cup qualifying matches coming up. There are eight teams vying for three automatic World Cup qualification spots. The fourth-place club will enter a qualification playoff with another nation from a different confederation in June.
On Thursday, January 27, first-place Canada visits eighth place Honduras, with the kickoff scheduled for 7:05 p.m. Sask time. Unfortunately, Canada will be missing their star player Alphonso Davies, as he's been ruled out due to myocarditis brought on by a recent case of Covid-19.
On Sunday January 30, Canada hosts the USA in Hamilton Ontario. This is one of the most anticipated games in Canadian National Team history, as the USA is only one point behind Canada at the top of the group standings. Kickoff for that match is scheduled for 2:05 p.m. at Tim Hortons Field.
The last match of this qualifying window takes place in El Salvador on Wednesday February 2, at 8:00 p.m. All these matches can be viewed live on Sportsnet or OneSoccer.
The last round of World Cup qualification matches takes place at the end of March, with Canada's final three matches against Costa Rica, Jamaica, and Panama. Let's hope star player Alphonso Davies can recover in time to be able to join the national team again for those matches.
CAF African Cup of Nations
The quarter-final stage is set at the African Cup of Nations, with four matches scheduled for this weekend. On Saturday, Gambia plays Cameroon, and Burkina Faso plays Tunisia. On Sunday, Egypt plays Morocco, and Senegal plays Equatorial Guinea in the last quarter-final matchup. The semi-final matchups are scheduled for Wednesday Feb 2, and Thursday Feb 3. The final day of the African Cup of Nations is Sunday February 6, with the third-place match and championship match. These matches can be seen on beIN sports with highlights on YouTube.
For more information, please check out the Confederation of African Football website here
CAFOnline.com
---

Saskatchewan Sports Hall of Fame Membership and Donation Campaign
The Saskatchewan Sports Hall of Fame has launched a new
giving page
outlining ways you can offer your support to this outstanding organization. The SSHF plays a vital role in recognizing, preserving, and educating the public about Saskatchewan's excellent sporting legacy.

Each week visit Everyone's Game Resource Centre on our weekly communication to find informational and inspirational articles, member interviews, and developmental opportunities.
Educational Resource:
---
SSA Calendar of Events & Deadlines
Recordings of past webinars and COVID-19 member calls can be found on our
YouTube Channel
.
March 15: Regular and Associate Membership Renewal Deadline
BE SAFE! BE THE SOLUTION!
As a reminder, please continue to take care of yourself, your families, and others.
We encourage everyone to be fully vaccinated and get a booster shot as soon as you are eligible.
Wash your hands frequently (it is the single most effective way of reducing infection spread).
Practice other good hygiene habits: do not touch your face/eyes/mouth with your hands and cover your mouth and nose when you sneeze or cough (ideally with a disposable tissue or the crease of your elbow).
Clean and disinfect frequently touched workspace surfaces.
Stay home if you are sick