While online engagement remained a prominent theme, we were thankful to have soccer games return this summer. The PSL League and Championship weekend were welcomed back with much excitement. We also had a very successful Soccer Day in Saskatchewan, allowing members to come together and celebrate all the game has to offer.
For 2022 we will continue to evolve and adapt. We know that soccer plays a significant role in the health and wellbeing of our participants and communities. Vaccinations provide a pathway for soccer to return to normalcy; we encourage everyone to get vaccinated and follow all health protocols so soccer can remain active.
We look forward to seeing you in-person in 2022, perhaps at the Indoor Provincials or, soon after, at the AGM and Awards Banquet.
SSA Closed for the Holiday Season
Saskatchewan Soccer Association will be closed for the holiday season beginning Friday December 24 with SSA staff returning Tuesday January 4, 2022.
Update - Dec. 15 Deadlines
Nominations to the SSA Board of Directors are now closed
We received six nominations at the deadline. The Board of Directors would like to thank all candidates who have put forward their name for consideration by Membership at the 2022 AGM.
Bylaws Amendments are now closed
Each fall the SSA engages Members in our annual bylaw consultation. As of Dec. 15, no amendments were received from Membership.
SSA's proposed amendments were circulated in October for member consideration. While this year's online session had to be cancelled, we had support for the amendments via the member survey. We also received written feedback which we followed up on directly.
We want to thank all Member Organizations for contributing to the consultation process. As a result of member feedback, the SSA Board approved revisions to the initially proposed amendments.
Within the amended document, we identify the original amendments that have been maintained, the new revisions along with rationale. The Bylaw amendments as outlined
here
will be put forth to membership for their consideration at the Annual Meeting on March 19.

Nominate someone for the SSA Recognition Awards
SSA Awards Nominations extended
As of the December 15 deadline we are without candidates for the following awards, and as a result we have extended the deadline to January 15.
Adult Coach of the Year
Member Organization of the Year
Forms and Criteria
Holiday Pro Camp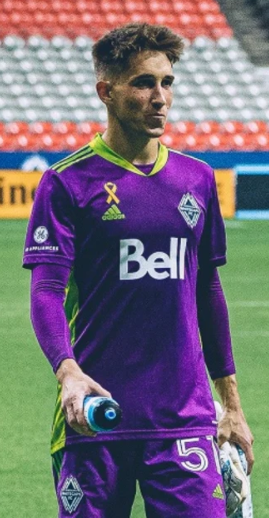 SSA is proud to partner with
Pro-Camp
, a unique Soccer Camp where young soccer players can meet professional hometown players Thomas Hasal and Brett Levis!
Thomas Hasal is a goalkeeper for the Vancouver Whitecaps in Major League Soccer, he played youth soccer with Aurora Soccer Club in Saskatoon before joining the Whitecaps Academy.
Brett Levis, a former Vancouver Whitecaps player was the first born and raised Saskatchewan player in the MLS. Levis is currently a midfielder for Canadian Premier League club, Valour FC in Winnipeg. Levis played youth soccer with Saskatoon United Soccer Club then went on to star with the University of Saskatchewan Huskies before his professional career.
Event features:
Open for U7 to U15 players
The program is designed for participants to hone skills while learning new ones, all with the opportunity to learn from current professional players who were once in their shoes.
Gain knowledge and insight from current MLS and CPL professional soccer players Thomas Hasal and Brett Levis
Q&A with the pro's
Signing session
Every player registered is automatically entered into a raffle to win a signed game worn MLS jersey
Camp Runs from the 27th - 29th of December 2021 at the
Elite Performance Centre
, Saskatoon SK.
---

Upcoming C-Licence Workshops
The C Licence workshop is the entry level course for Canada Soccer's Advanced Coach Education Program. The course is split into two parts, the online theory and in-person practical training. Coaches must first complete the online theory before they can register for the in-person practical. Registration is now open for the following dates.
C-Licence ONLINE THEORY - February 1 to March 15
The online theory components will be delivered in both an a-synchronous and synchronous format. There will be four scheduled synchronous sessions starting on February 1 and running every second Tuesday until March 15.
C-Licence IN-PERSON PRACTICAL Training - Regina, January 7-8
The Regina C-Licence Practical workshop originally scheduled to take place this past fall, has now been rescheduled for Friday, Jan. 7 and Saturday, Jan. 8. We have re-opened registration for this workshop to accommodate anyone else looking to complete their in-person practical training.
Registration for both events can be found on your member organizations RAMP registration portal.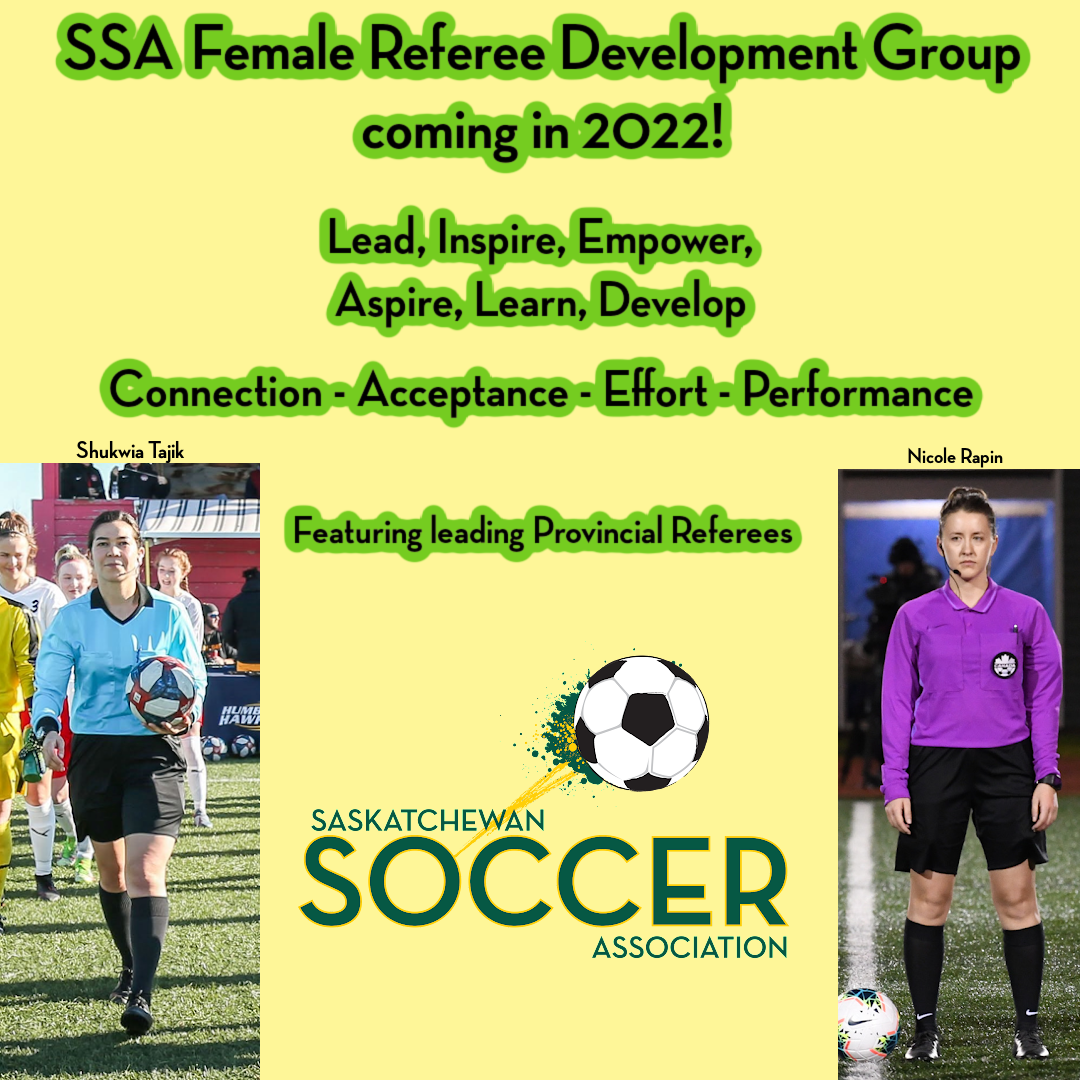 SSA Female Referee Development Group Launching in 2022
Coming up in 2022, SSA will be launching a new online development program for Female Referees. Led by Provincial Referees Shukwia Tajik and Nicole Rapin, the group will be open to all Sask Soccer registered female referees. More details with dates and registrations will be available in the New Year.
Referees are essential to the participant experience and advancement of the game. They deserve our respect and a supportive, abuse-free, environment. You can make a difference; always treat them well and thank them for their contributions every game!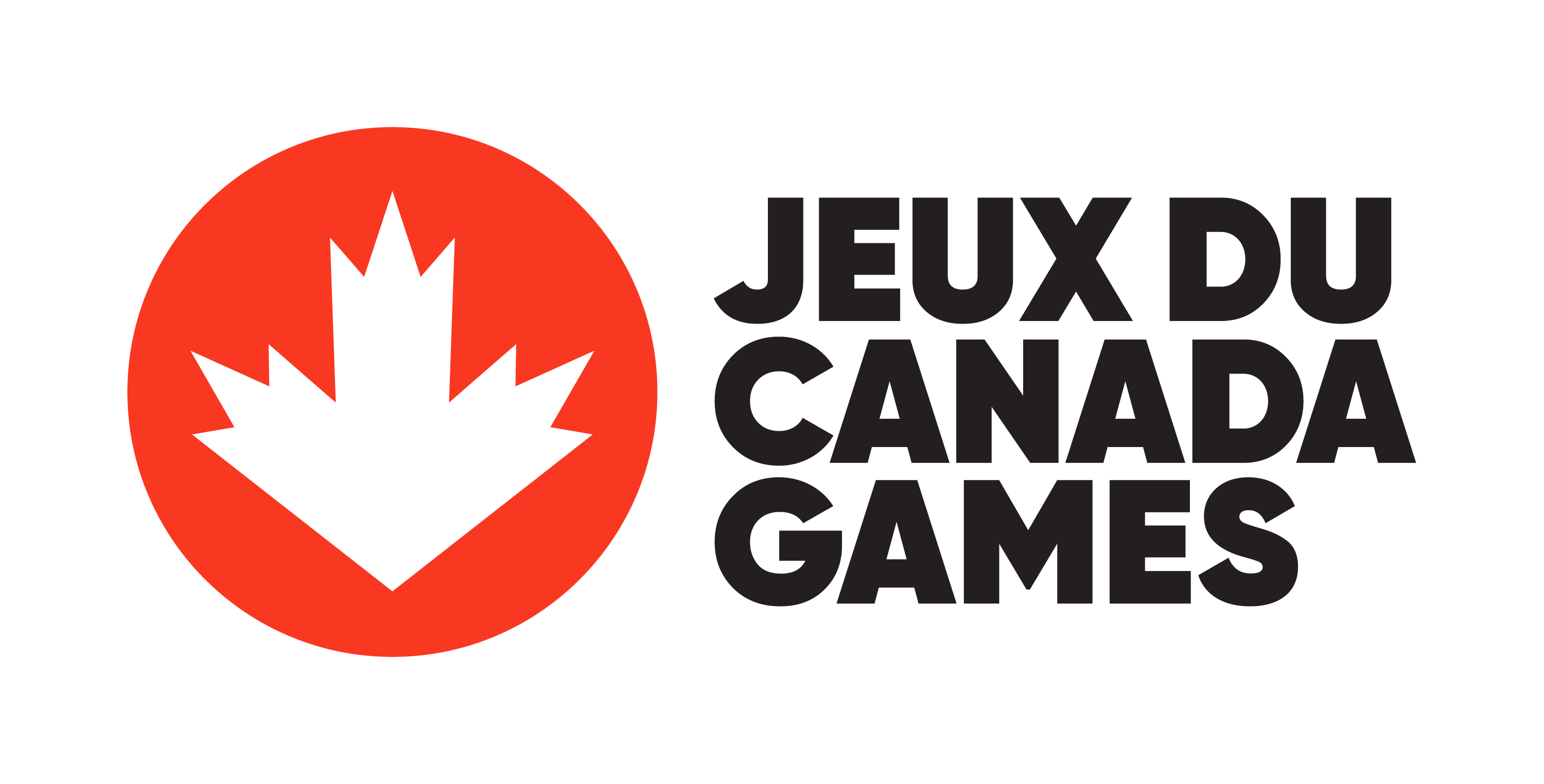 Canada Summer Games, Saskatchewan soccer teams Identification Registration
SSA is happy to announce the opening of registration for the Identification Events for the Saskatchewan soccer teams at the Canada Summer Games. Registration opened Saturday December 11 at 9am and remain open until March 1, 2022, at 11:59pm.
Before registering, please make sure you are familiar with the Saskatchewan Soccer, Canada Games Information Package, which can be found
HERE
. This document will include all the relevant information for athletes who would like to register for the ID Events.
At this stage, we are yet to formally announce our coaching staff for either male or female programs. Although provisionally selected, our coaching staff must first complete their Safe Sport compliance checks in full. We plan to make a formal coaching staff announcement in the New Year. We encourage athletes to register after the coaching announcements are made. However, if athletes prefer to register early, registration will be open as of December 11.
SSA Staff Updates
Hiring: Technical Operations & Coach
SSA is looking for an energetic and determined person to join our team. The ideal candidate will have a passion for the game, a strong desire to learn and a commitment to high standards. The TOC will also be an active coach and support on-field programs such as the female SK Regional Excel Centre (REX) and provide operational support to SSA programs and competitions.
Aligning to our Strategic Plan priority to advance female coaches at high performance levels and confirming our commitment to equity, we welcome female applicants for this role.
We would appreciate your assistance to share this posting with aspiring coaches, particularly with female candidates, who would like a chance to advance as a coach and technical staff contributor.
For more information, please check out the job posting
here
.
Rahim Mohamed on loan to Canadian Men's National Team
In pursuit of World Cup Qualifying, Canadian Men's National Team Coach, John Herdman, has reached out to SSA for support. Director of Soccer, Rahim Mohamed, will be on leave in support of the Men's National Team for 3 months in the role of World Cup Qualifying - Manager of Operations, beginning January 1.
This is a chance of a lifetime for SSA to support Canada and for Rahim to contribute on this historic run to World Cup Qatar 2022. In his absence, Markus Reinkens will take on additional duties as Interim Director of Soccer.
SSA Staff Capacity
As soccer continues to rebound, we ask members to consider that we have all been impacted by the pandemic, within our member organizations and with SSA staff in the past two years. With a much smaller team, all staff have been asked to take on additional duties as we strive to maintain quality service and advance the game under challenging circumstances. Members are asked to be cognizant that we all need to be more efficient in our interactions, working respectfully, meeting deadlines and commitments fully each time. We can accomplish a lot much working collaboratively by aligning and streamlining our efforts; we thank you for you continued support in 2022.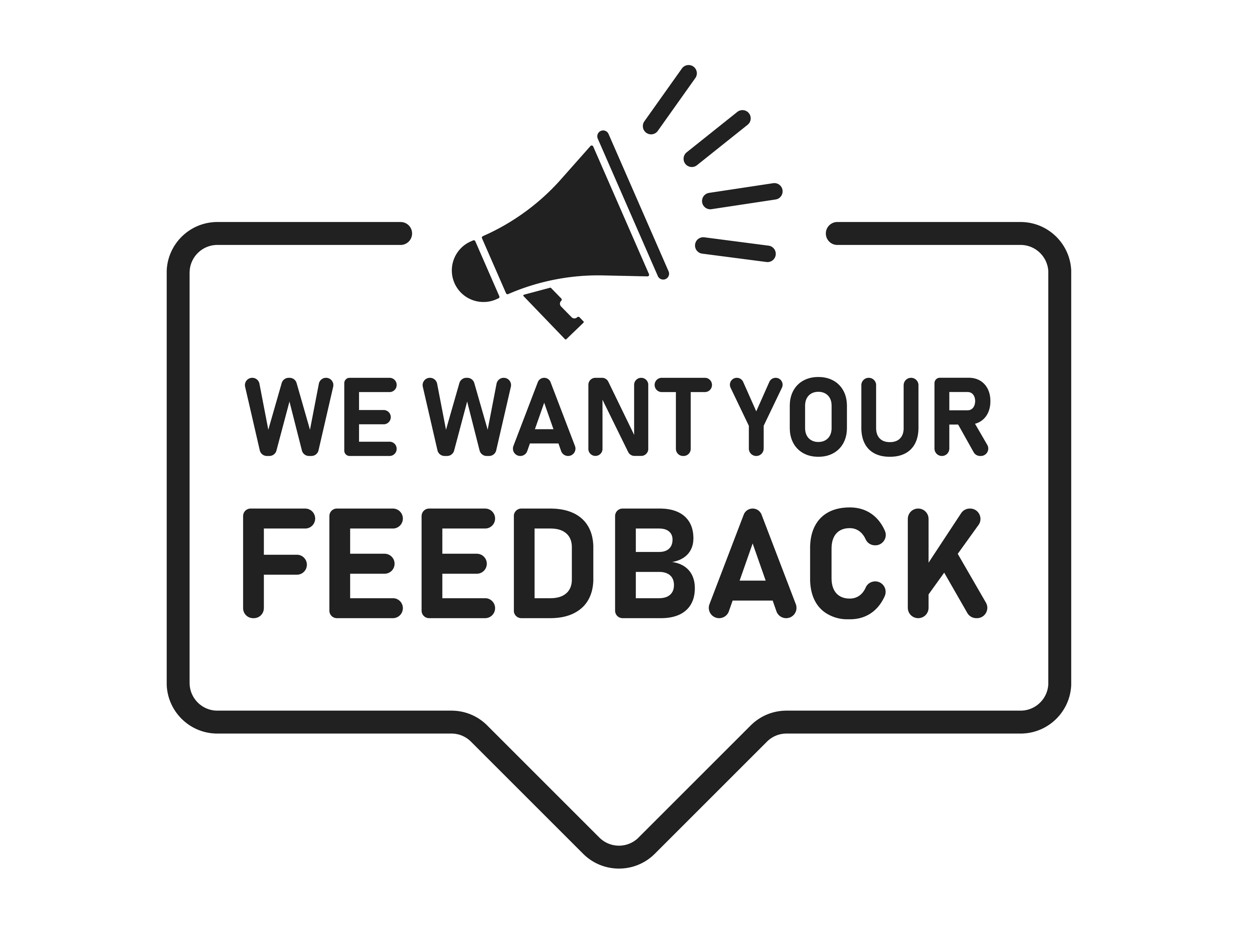 As part of SSA's commitment to providing quality service and value, we are requesting your feedback through the Member Organization Satisfaction and RAMP Satisfaction survey. These surveys give us a chance to hear from you and learn what we have done well this past year, and what we need to work on in the year to come!
Please answer the questions as honestly and constructively as you can. The two surveys combined will take approximately 12 minutes to complete.
RAMP Satisfaction: We ask that only one survey be submitted on behalf of each Member Organization/entity with a RAMP registration site.
Deadline: January 25, 2022
Thank you for taking the time to complete the surveys, and as always, for your tremendous efforts this past year!
Outdoor 2022 Season Registration
Online RAMP registration for Outdoor 2022 season will be available December 22, 2021.
REMINDER: The Outdoor 2022 season will not be active until the Member Organization activates it, this can be done in the season settings.
SSA REX Program Athletes Win Gold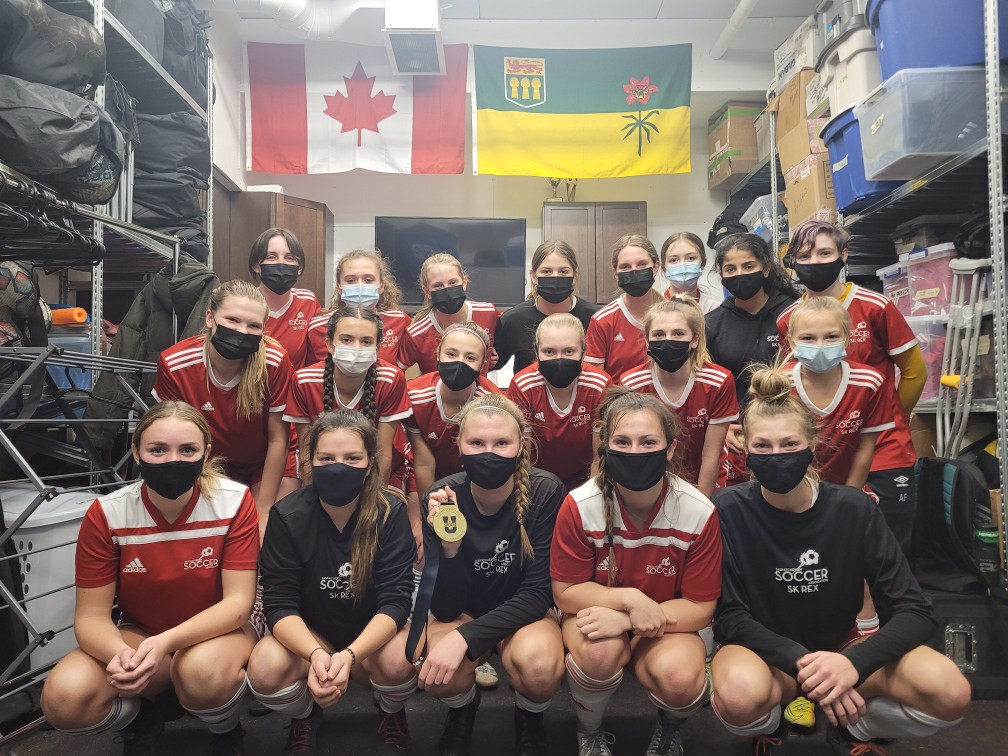 Pictured here are the Saskatchewan Soccer Association Regional Excellence Program (REX) participants. Many of these young athletes move on to University and College level soccer programs across Canada and the United States.
On November 21 MacEwan University women's soccer team won the Canadian U Sports national championship in Cape Breton, Nova Scotia. Two members of that gold medal winning team, Renee DeCorby and Brenna Paquin developed their soccer skills with the SSA REX program in Saskatoon.
Brenna Paquin, returning to train with SSA REX recently, is pictured above in the middle of the front row holding her U Sports gold medal. Brenna grew up playing in several Saskatoon area Associations including Valley Soccer Association, Hollandia Soccer Club and Astra Soccer academy.
Brenna had this to say about her national championship winning experience. "The feeling is absolutely surreal, as a team, we worked incredibly hard for this opportunity since the first day of pre-season. We made it a goal to get to Cape Breton and not only did we achieve that but to win the championship, I couldn't ask for a better rookie season."
SSA REX Manager and High-performance coach Adam Miller was thrilled with news of SSA REX athletes winning a national championship. "The SK REX program is so proud of both Brenna and Renee and their achievements with MacEwan University this season. I have been fortunate enough to work with Brenna this past eight months, she is an incredible young person, with a fantastic attitude and growth mindset. These characteristics, coupled with her intense desire to win, has made it a privilege to have her involved with our current REX team, to show the standards that need to be met to be able to join a gold medal winning program. We are so proud of Brenna and Renee for what they have achieved with MacEwan University, and we look for forward to more Saskatchewan players following in their footsteps."
Renee DeCorby also a U Sports national championship winner with MacEwan University, grew up playing youth soccer with Saskatoon United Soccer Club. SUSC Technical Director Huw Morris said "Renee always came with the drive, commitment, and positive attitude you would expect from such a talented athlete. Renee was a pleasure to coach and wonderful to be part of her development. She's a great role model for other Saskatoon United Soccer players to aspire to."