Return to Soccer Updates
This week, we have confirmed the following with the Business Response team:
When roster sizes do not allow for competition to occur within a mini-league of 50, and only under these circumstances, a mini-league size may be increased from 50 to 80 people (including players, and those referees/coaches part of the mini-league). For soccer this applies only to leagues in which the game format is 9 v. 9 or 11 v. 11. This change allows these leagues to operate with 4 teams within an 80 person mini-league bubble.
We have also been advised the Saskatchewan Health Authority may start administering tickets for sport groups not following the provincial government guidelines, and we encourage all organizations to continue to keep up your hard work to ensure participant safety is always top of mind.
It is also important to note, that Government guidelines may change at any point in time, and Member Organizations may be required adapt their plans as necessary to comply.
We appreciate and are proud of all the work SSA Member Organizations are doing to continue to provide safe, quality programming. Please contact us as questions or concern arise.
Emergency Action Plan Resources
As we move back indoors, and cases of COVID 19 rise in the province we would like to encourage member organizations to have an Emergency Response Plan in place for if there was a positive case on one of your teams or programs. SSA has two documents available for members to use the
COVID Emergency Action Plan Resource
and
Crisis Communication Guide
.
Member Discussions
MAP Grant - FINAL REMINDER!
There are 5 days to go to the MAP Grant Follow-up Deadline! Follow-up forms and receipts must be submitted by September 30th at midnight.

Due to COVID, it is required that all Follow-up Reports and receipts are submitted by email.
To be eligible for MAP Grant Funding, Member Organizations must be in good standing on the follow-up deadline (i.e. have no debts outstanding).
Registration Deadlines
The Outdoor 2020 registration deadline is September 30. The deadline includes all registrations for players, coaches and officials received during the outdoor season.
It is critical that you submit the completed Registrar Report and fees no later than September 30. The amended registration fees and Registrar Report are available on the
SSA website
. If you have any questions, contact
registrar@sasksoccer.com
.
Adaptive Sport Club Development and Equipment Grants
High Performance Women in Coaching Mentorship Grant
Supported through gender equity funding available from Sport Canada, the Coaches Association of Saskatchewan (CAS) and Canadian Sport Centre Saskatchewan (CSCS) are partnering to help High Performance coaches level-up so that they can coach athletes to the next level.
2020 North American Indigenous Games further postponed
The Games were originally scheduled for July 2020 were postponed to 2021 at the beginning of the COVID 19 Pandemic. Announced late Friday, September 18 the Games are further postponed to the summer of 2022.
SSA Calendar of Events & Deadlines
Recordings of past webinars and COVID 19 member calls can be found on our
YouTube Channel
.
SaskSport has partnered with the Rivers West District to host a number of workshops in September and October. Registration is now open!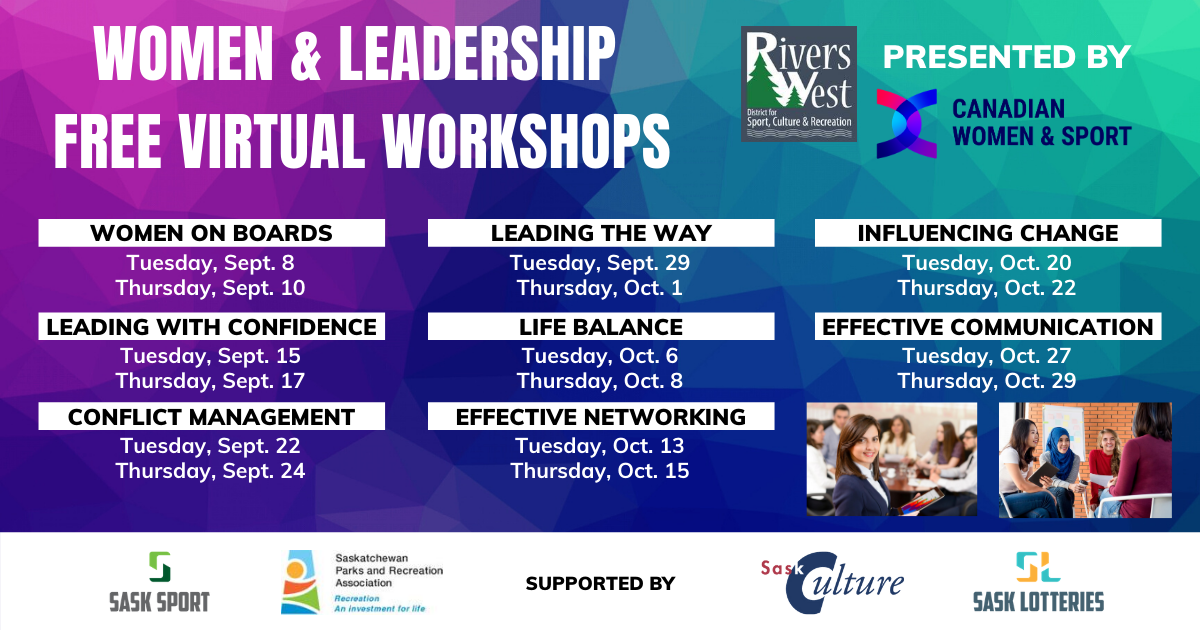 Wîcihitowin Indigenous Engagement Conference
What: 2020 Wîcihitowin Indigenous Engagement Conference - FREE Webinar Series
When: Wed Oct 7 to Thurs Oct 8, 2020
Canada Soccer Nation Inside
BE SAFE! BE THE SOLUTION!
As a reminder, please continue to take care of yourself, your families, and others.