Member Assistance Program (MAP)
---
Saskatchewan Soccer is pleased to distribute over $230,000 in funding from Saskatchewan Lotteries Trust Fund for Sport, Culture and Recreation's Membership Assistance Program to Member Organizations to allocate funds directly to members, to support Member Organizations to align their efforts with SSA, increase the number of participants, expand sport and organizational development opportunities, strengthen local capacity to grow the game, and assist with promotion of soccer in Saskatchewan.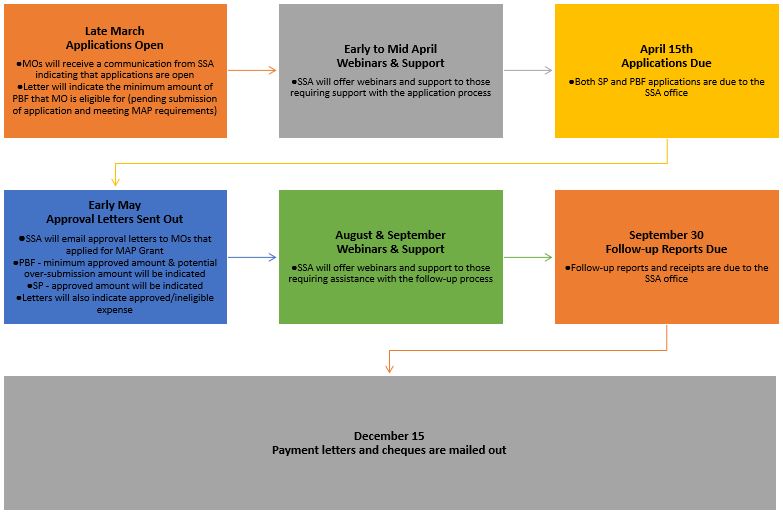 Grant Application
The MAP Grant application deadline is
May 1st at midnight
. Deadline has been changed from April 15th to May 1st in response to COVID-19.
MAP Grant Easy Guide
: Outlines the highlights relating to MAP, as well as provides suggestions for projects under each of the funding categories.
Grant Policy, Article 2 - MAP Grant
: Outlines complete requirements, expectations, and deadlines to the MAP Grant. Read this document in its entirety to clearly understand the MAP Grant.
MAP Application Webinars
Adaptations in 2020 Due to COVID-19
The following are adaptations to the MAP Grant process in 2020 due to COVID-19:
The application deadline has been pushed from April 15th to May 1st.
Member Organizations may submit their applications ahead of the May 1st deadline (by April 24th latest) and receive advance approval for their requested PBF projects in order to support budgeting and return to play preparations. The total funding available to each Member Organization will be confirmed after the May 1st deadline when all applications have been approved.
All MOs who complete their member renewal form and have no outstanding accounts will qualify for MAP, even if they do not register any participants this year.
Apply for MAP Grant even if you're not sure if you will have a season in 2020. Your organization can always choose not to submit a follow-up report at a later date.
For PBF funding, general operating costs such as administrative costs, facility rental costs, and referee game fees will be approved as an eligible expenditure (normally deemed as an ineligible expense), however SSA encourages MOs to align projects to strategic priorities where possible. Other eligible expenses would include line paint, printing costs, printer ink, office supplies, Paystone monthly fees, facility rental costs for programs, referee game fees, etc. Ineligible costs will be wages and staff costs. If you have other general operating costs that are not explicitly included in this list, submit these requests on your application and we will consider these on a case by case basis in consultation with the SSA Board and Sask Sport.
Circumstances continue to evolve and updates continue to come from Canada Soccer, Sask Sport, and the SSA Board. If there are updates to be made, clarification will be provided in the approval letters in May.
Member Organizations may submit their follow-up reports as soon as they have completed their projects and can request their final payment be sent before December, however, they will forgo any potential additional funding that may have been allocated during the over-submission process.
Sask Lotteries Recognition
The recognition of Sask Lotteries is important and must be done according to Sask Sport MAP Grant Funding Guidelines.
MAP Grant Follow-Up
The MAP Grant follow-up deadline is September 30th at midnight.
MAP Grant Follow Up Guidelines
: Highlights important information relating to the follow-up process, what constitutes an acceptable receipt, and the funds dispersal process.
MAP Form Submission
MAP forms may be submitted by:
Contact the Coordinator of Member Services at (306) 519-1618 or
cms@sasksoccer.com
for support.