Club Licensing Program
---
The Canada Soccer Club Licensing Program is designed to guide member organizations throughout the country toward best principles for organizational development both on and off the field. Canada Soccer has developed the Club Licensing Program to vertically align (from FIFA through the PTSOs) and integrate best principles from several sources to create a standard that is both high quality and recognizes the unique Canadian soccer landscape. Saskatchewan Soccer is proud to partner with Canada Soccer to deliver the Club Licensing Program within Saskatchewan.
The Canada Soccer Club Licensing Program is an opt-in program and it is not mandatory for any Member Organization to participate, nor will it impact the membership status of any organization within Saskatchewan Soccer. The Club Licensing Program takes a principle-based approach. Principles provide direction but are not prescriptive, allowing organizations to develop and select methods by which they will operate based on their available resources and unique situation and context.
Club Licensing Program Licences & Criteria
Within the Club Licensing Program there are four classifications that a Member Organization (MO) can target based on their vision and desire to develop their organization:
Canada Soccer is responsible for the oversight of the National Youth Club Licence, while Saskatchewan Soccer is responsible for the oversight of the Quality Soccer Provider, PTSO Level 1 and PTSO Level 2 licences within the Club Licensing Program.
Club Licensing Application Process
(See table below for updated timelines)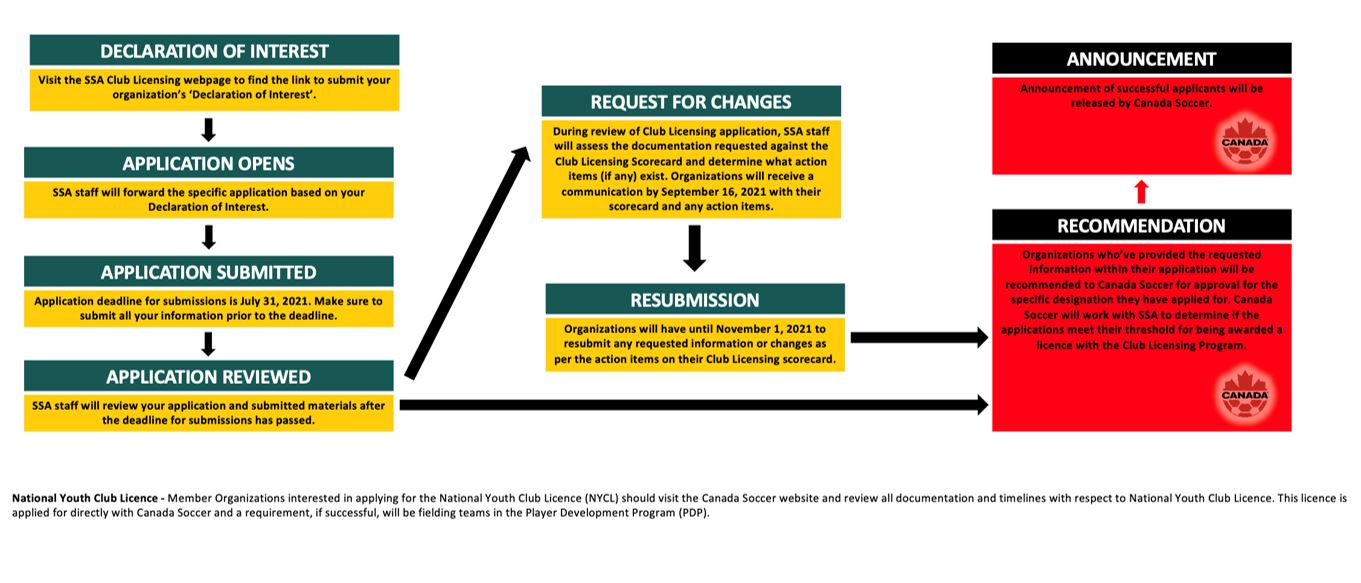 Club Licensing Competition Designations
Annual Timelines for Implementation within Saskatchewan
| | |
| --- | --- |
| April 16 | Declaration of Interest form open |
| May 1 | QSP, MA Youth 1, MA Youth 2 applications open |
| August 31 | Deadline to declare interest in applying for National Youth Club License |
| October 1 | QSP, MA Youth 1, MA Youth 2 application deadline. All information must be submitted by this time |
| November 18 | Communication requesting any additional information sent to MOs |
| January 17 | Organizations have until November 1 the following year to resubmit any requested information or changes |
| January 31 | Communication regarding applications sent to MOs and recommendations provided to Canada Soccer |
The Benefits of Becoming Licensed
Benefits for participation in this program can be tied into 4 categories: Reward, Recognition, Differentiation and Accessibility to Competition.
Information, Education, and Resources
March 10, 2020
Launching an Adaptive Soccer Program
March 12, 2020
Webinar about 2020 Club Licensing Program
April 8, 2020
Newcomer Engagement & Inclusivity Webinar
April 21, 2020
Launching a Walking Soccer Program
April 29 & May 6, 2020
How to Write a Technical Plan - for access to this webinar contact Rahim
May 14, 2020
Club Licensing - Principles in Action - Slide Deck
May 27, 2020
Developing an Annual Plan
June 4, 2020
Balancing Quality with Accessibility & Inclusion - Slide Deck

November 1 & 8, 2020

Managing Your Technical Direction

Register online through your member organization online portal.

April 14, 2021

April 27, 2021

ASC Cloud Update Presentation
Staff Contact Information