2020 Coaching Education Opportunities
---
---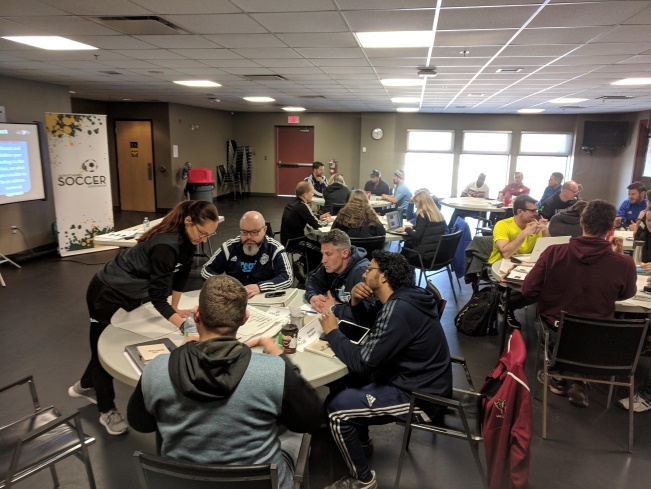 ---
The SSA is pleased to announce a number of exciting Coach Education opportunities for this year. This development calendar is tied to the SSA Strategic Plan 2017-2020, which lays out a number of key goals and outcomes for coaching and technical leadership education. We have also taken into account the enhancements within the Coaching Education Pathway from Canada Soccer. We are excited to share the following upcoming Coaching Education opportunities and we hope to see many from our coaching community participate in these opportunities.
Coaching Development Calendar
SSA staff have been working diligently behind the scenes to provide as much detail as possible about the upcoming year for coaching education, including prospective dates and information.
Please click on the following link to go to the Coaching Courses page on the SSA Website for more information including details on upcoming community courses in your area.
CSA C License "Student" Course (High School or Post-Secondary Students Only)

After a very successful pilot in 2019 we are very excited to announce that we will once again be offering a free C-Licence targeted for Student Coaches aged 16 to 25. This year the course will be hosted by the University of Regina and will take place in early August.
With the continued evolution of coaching standards based on streams of participation, our hope is that current soccer players will become future soccer coaches and leaders in the game. Because of limited availability it will be first come, first serve for registration. Minimum age for participation is 16 years of age and coaches should complete their Learn 2 Train OR Soccer 4 Life community coaching course prior to attending.

Planning Participation in Coaching Courses
To assist Member Organizations and coaches with their planning, the below chart will provide some insight into the frequency by which the SSA will look to host the following courses. It is important for all coaches to have the opportunity to plan for appropriate licensing and to take advantage of when a course is hosted in Saskatchewan to reduce costs and the need for travelling out of province.
Hosting of Coaching Licenses
CSA C License
2 Courses Annually + C-Licence "Youth"
CSA Child License
Every 3 Years - 2019, 2022, 2025
CSA Youth License
Every 3 Years - 2021, 2024, 2027
CSA B License Part 1
Every 2 years - 2019, 2021, 2023
We encourage all coaches and member organizations to review their needs as it pertains to the Stream of Participation that they are looking forward to participating within as well as review club licensing criteria for Quality Sport Provider, PTSO Level 1, PTSO Level 2 and National Youth Club License to determine their coaching certification needs.
*Please note: The CSA Youth Licence that was targeted to run this year, has been postponed and will now be scheduled to start in 2021.
Canada Soccer has updated its Coach Education Re-Licensing Process for A and B Licence holders
If you attained your A or B licence prior to December 2014, please see below and on the Canada Soccer website for information on how to renew your license.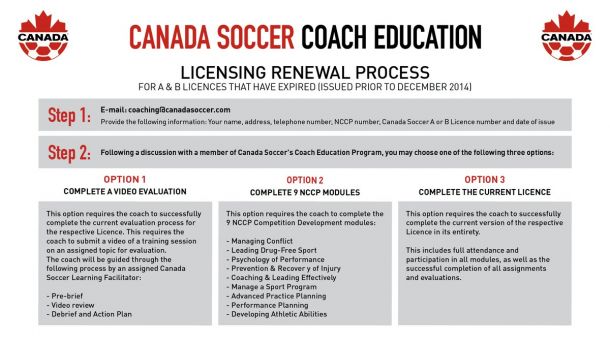 How to Book an Evaluation for the CSA C License or CSA B License Part 1
In our continued effort to increase accessibility and improve our delivery of Coach Education, we are pleased to provide coaches with the following revised evaluation process for Coaches to complete their on-field practical evaluation. Coaches can now schedule an evaluation on their own time when they are ready and prepared to do so. In addition, candidates can now submit a video session which will reduce costs associated to travel and improve feedback through online evaluations.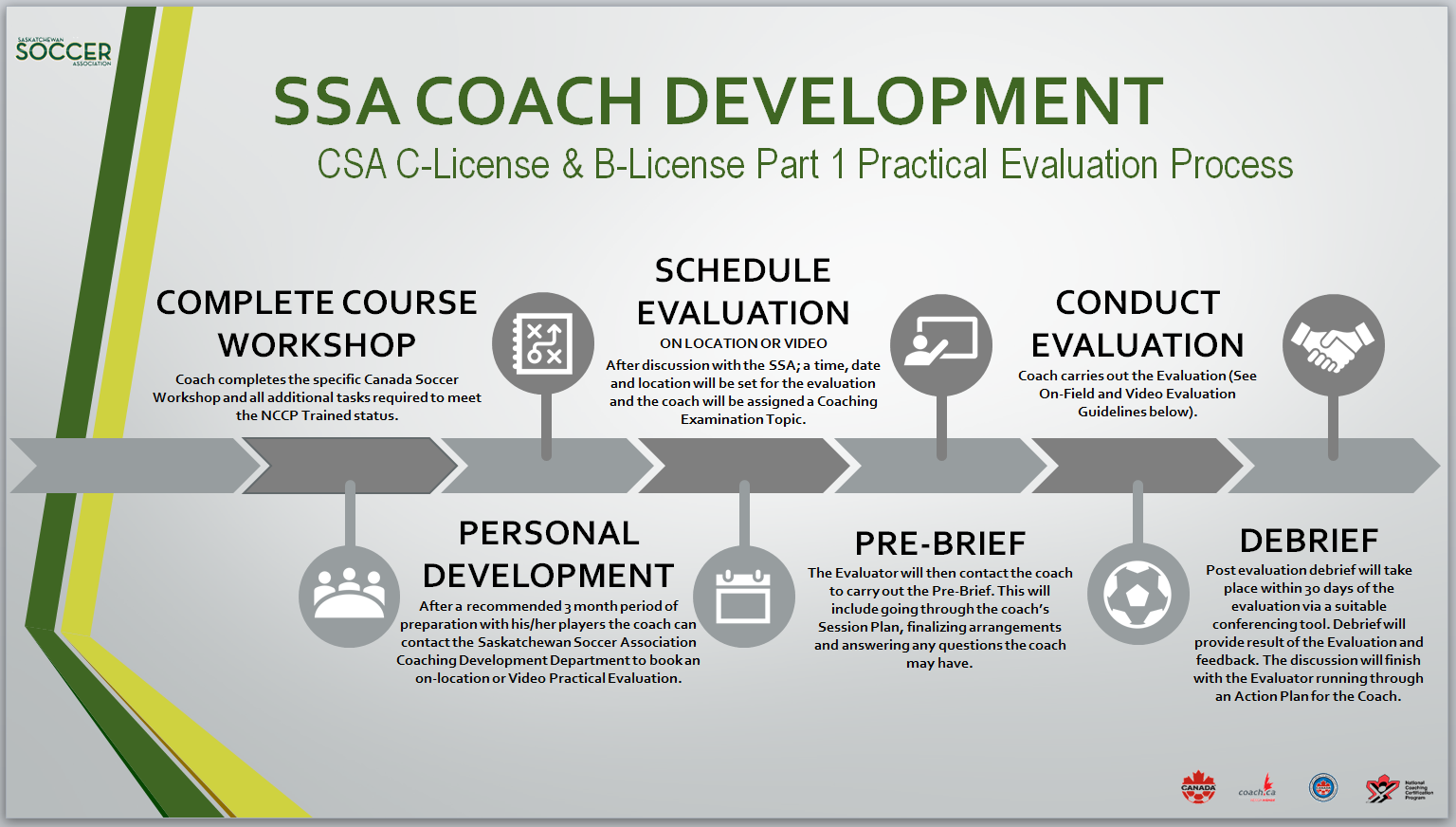 Saskatchewan Coaching Standards
To assist Member Organizations to better understand coaching requirements, we have continued to develop the below Coaching Standards chart that outlines the different requirements of coaches based on the Stream of participation.
We will continue to update this chart as the Coaching Education pathway and licensing evolve in the soccer landscape.
Respect in Sport (RiS) - 5 Year Expiry Reminder
In 2019 RiS announced a 5 year expiry date for all RiS certifications province wide. In our continued effort to stay up to date and aligned with our partnership programs the Saskatchewan Soccer Association will also require that all coaches and team personal maintain an up to date RiS certified status. As such, anyone who has completed the RiS training in 2013 or earlier will now be required to re-certify prior to the start of the 2019 indoor season.
How do I re-certify?
Coaches and Team Personnel whose certification has expired will or may already have received an email notification from RiS notifying them of the expiry. If you are not sure or didn't receive an email notification we recommend that you login to your RiS account by visiting: https://sasksrc.respectgroupinc.com/
Any questions about information enclosed in this communication, please email Markus Reinkens at cs4a@sasksoccer.com