Coaching Workshops
---
*Please be advised: The health and well-being of all of our members continues to be a top priority as the reports around COVID-19 and its impact on Saskatchewan advances. With that said all coach development in-person workshops have been postponed until further notice.
---
On this page, you will find information on the following:
New Coaching Workshop Delivery Formats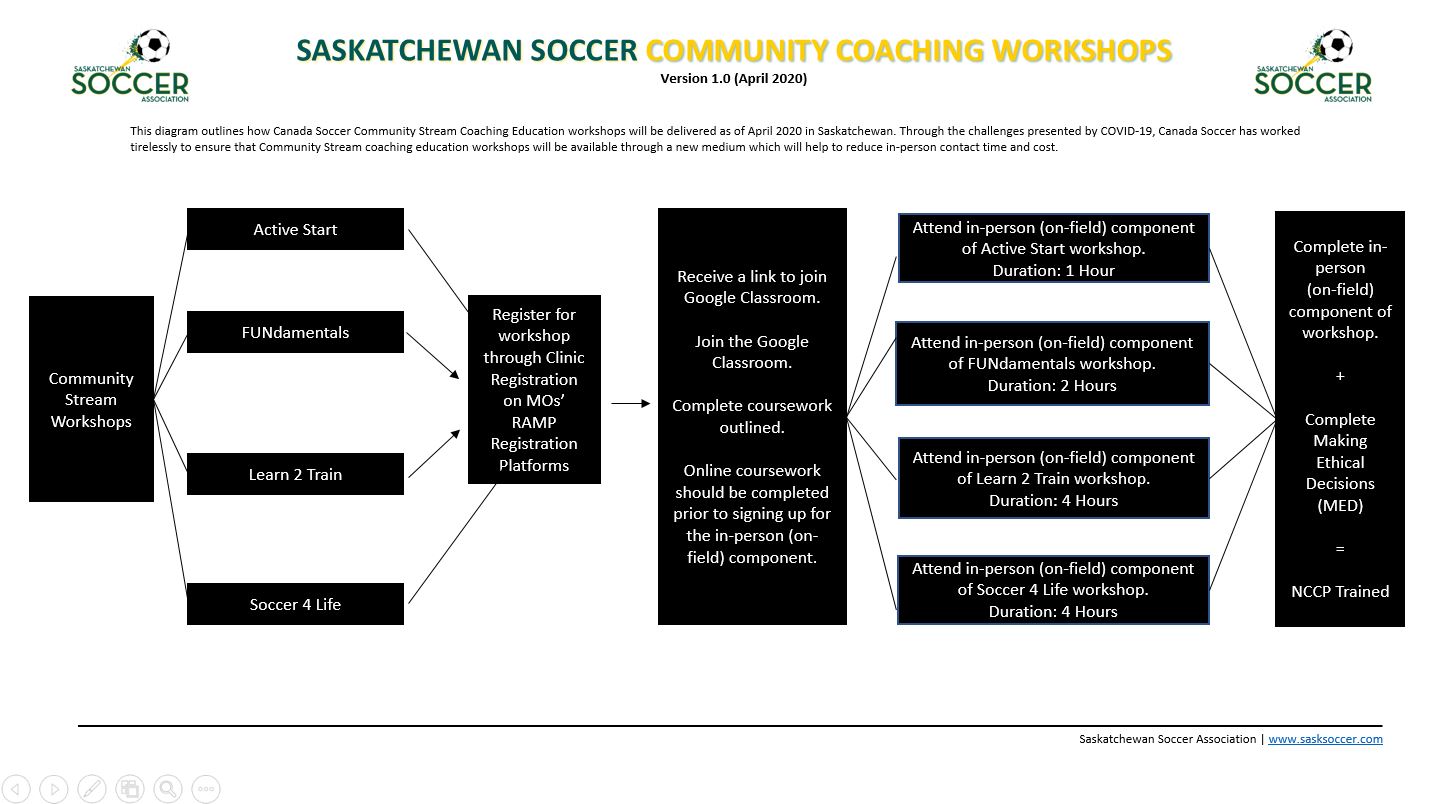 Canada Soccer and the provincial and territorial soccer organizations have been working hard over the past few weeks to revamp coaching education to be more conducive to an online format. We are pleased to announce that the theory components of Community Stream coaching workshops will now be delivered by Google Classroom. The new blended format (online and in-person) will allow participants to cover the classroom component online, at their own time, from anywhere they have an internet connection.
COVID-19 has presented an opportunity to focus on simplifying existing delivery methods and we are looking forward to the changes that have been and will continue to be made for Community Stream Coaching workshops. We believe these changes will provide both time and cost savings for participants and MO hosts which will benefit the game.
Online (Theory) Coaching Components
We are pleased to offer all of our Community Coaching Theory modules and our C-Licence Workshop in an online asychronus format. Participants may register for the online (theory) components at anytime through the Clinic Registration form on their Member Organization's RAMP registration platform. Once resitstration is complete a confirmation email will include a link and code that the participant will use to access the workshop on Google Classroom. SSA accredited Learning Facilitators (LFs) will engage with participants on the Google Classroom to answer any questions that may arise while completing the online component of the workshop.
Clinic registration can be completed through your Member Organization RAMP registration platform.
How to Register for Online Components
Tutorial on how to Register for online components using RAMP.
Click Here
Visit the
Our Members
webpage to locate to your Member Organization's website.
Click here
to watch a short video on how to access the Google Classroom.
In-Person (On-Field) Coaching Components
*Due to Covid 19 restrictions there will be no scheduled in-person (On-Field) Coaching Courses until further notice.
After completing the online component of the coaching workshop, participants can sign up for an in-person (on-field) workshop, hosted by either a Member Organization (MO) or SSA.
| | | | | | |
| --- | --- | --- | --- | --- | --- |
| Date | Course | Location | Host | Registration | Deadline |
| NA | NA | NA | NA | NA | NA |
Host a Coaching Workshop
*(Currently Not Available due to Covid 19 Restrictions)
Click here
if you are a Member Organization who would like to host an in-person coaching workshop.
Date

Workshop/Webinar

Location

Registration

Host

Deadline

July 8

430pm - SMSC Series: Goal Setting - Lisa Hoffart

Online

Watch Recording

SMSC

July 15

430pm - SMSC Series: Stress & Relaxation - Lisa Hoffart

Online

Watch Recording

SMSC

November

1 & 8

How to Manage Your Technical Direction
Online
RAMP through your MO portal.
SSA
Dec 9
Coach Mentoriship with Mark Marshall
Online
RAMP through your MO portal.
SSA
Registration for these courses are now open under your Member Organizations (MO) Clinic registration, please visit your MO RAMP registration portal and click on the clinic you would like to register for.
Coaching Workshop Descriptions
Click on each workshop to read a description about each workshop.
Community Stream
Licensing Stream
Children's Licence
Youth Licence